On the morning of October 28, 2018, the groundbreaking ceremony of Lepu Biopharma Co., Ltd. was held in Pujiang Park, Xinzhuang Industrial Zone, Minhang District, Shanghai. Zhu Zhisong, Secretary of Minhang District Party Committee, Wu Bin, Deputy head of Minhang District, Pu Zhongjie, Chairman of Lepu Biopharma, and leaders of relevant functional departments, partners and representatives of project construction party attended the event .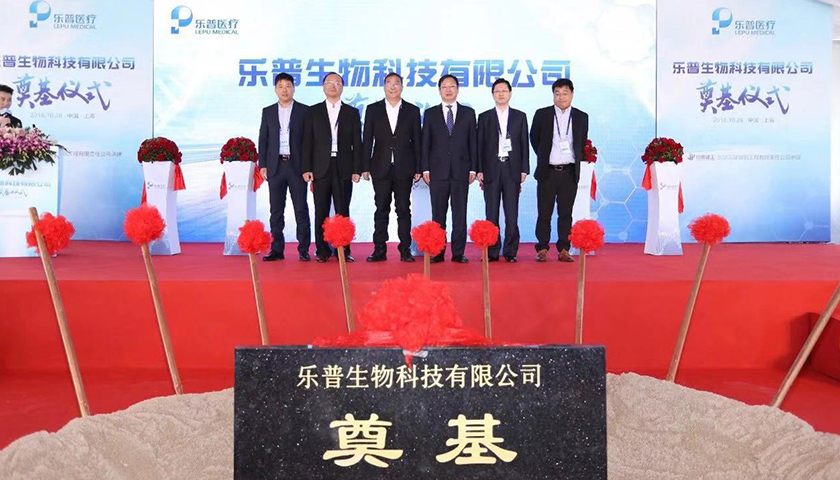 Wu Bin, Deputy head of Minhang District, made a speech. He warmly welcomed the settlement of Lepu Medical in Minhang District, and pointed out that Minhang District is making every effort to build a high-tech intelligence zone in South Shanghai, which will focus on the development of high-end equipment, artificial intelligence, new generation of information technology, and biomedical industry driven by scientific and technological innovation and form a "four-industry parallel" pattern. As one of the earliest start-up projects in Pujiang Park of Xinzhuang Industrial Zone, Lepu Biopharma achieved the fastest land right use purchase and the fastest speed to entered into construction in Minhang District - this project will certainly become a key and important link in the development of biomedical industry in Minhang District. As an excellent domestic medical enterprise, Lepu Biopharma has made great contributions to public health protection. Minhang District will provide good services and strong guarantee for Lepu Medical, and looks forward to working hand in hand with Lepu Biotechnology Co., Ltd. to create brilliance and promote the development of China's biomedical industry.
Pu Zhongjie, Chairman of Lepu Biopharma, said in his speech: Lepu Medical is the medical device company with the largest market value in China and the leading high-end medical product industry group of cardiovascular implantable interventional diagnosis and treatment devices in China. With the construction of Lepu Biopharma Industry Base, it will provide new driving forces for the long-term development of Lepu Medical Cancer Immunotherapy. In the future, Lepu Medical will further improve the layout in the field of biomedicine, improve the R & D and manufacturing level, and lay a solid foundation for the implementation of the company's strategy of "Full Ecology of Cardiovascular Diseases + Anti-tumor Health". In the foreseeable future, Lepu Medical will always take "Science and Technology Care for Life" as its responsibility and wholeheartedly escort public health by continuously optimizing and developing four major business segments: medical devices, pharmaceutical products, medical services and new medical industries.
Subsequently, a simple and grand ribbon cutting ceremony and foundation laying ceremony were held. Relevant leaders of Minhang District Committee, Minhang District Government, and the management of Lepu Medical held a spade to shovel the "first spade soil" for the Lepu Biopharma Industry Base, marking the official start of the project.
Scene Preview: